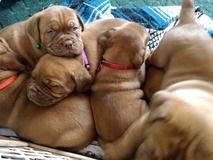 I have been raising and breeding Dogue de Bordeaux's since 2006. We have bread and shown in Arizona and California.
I have owned several dogs of this breed for 18 years and they are great family pets as well as protectors.
All our dogs are cared for by a local veterinarian who is highly knowledgeable in the history and health of the Dogue de Bordeaux.
The Sir and Dam have excellent temporments. We have raised both from pups and they have made excellent parents.